You may be thinking that baking bread requires many culinary skills, but it's much easier than you think. So I decided to give bread making a try when I couldn't find any bread in the market without tons of processed ingredients and a series of fillers, starch powders, fillers or preservatives, even at the best health food stores. Once I started experimenting and developing different kinds of bread recipes, I had a reasonable number of failures and fortunately some successful results like this recipe I'm sharing with you here. Now I can make my own bread and I can teach my clients to do the same. Keep in mind when making bread, especially gluten-free breads, you always have room for improvement and experimenting so don't get discouraged if you try baking bread once and it doesn't come out right. That's how you learn.
I call this "Cake Bread" since it isn't like traditional bread, it doesn't rise and it's not white or brown. It's gluten-free, without any added sugar and easy to digest. You can enjoy it as bread with your nut butters, cheese, fruits and yogurt for breakfast or as a warm pound cake with your afternoon tea. It's made with whole ingredients, full of fiber, healthy fats, antioxidants and vitamins with protein. It's hearty, moist, semi-sweet with saffron flavor which makes it pleasantly delicious. Enjoy!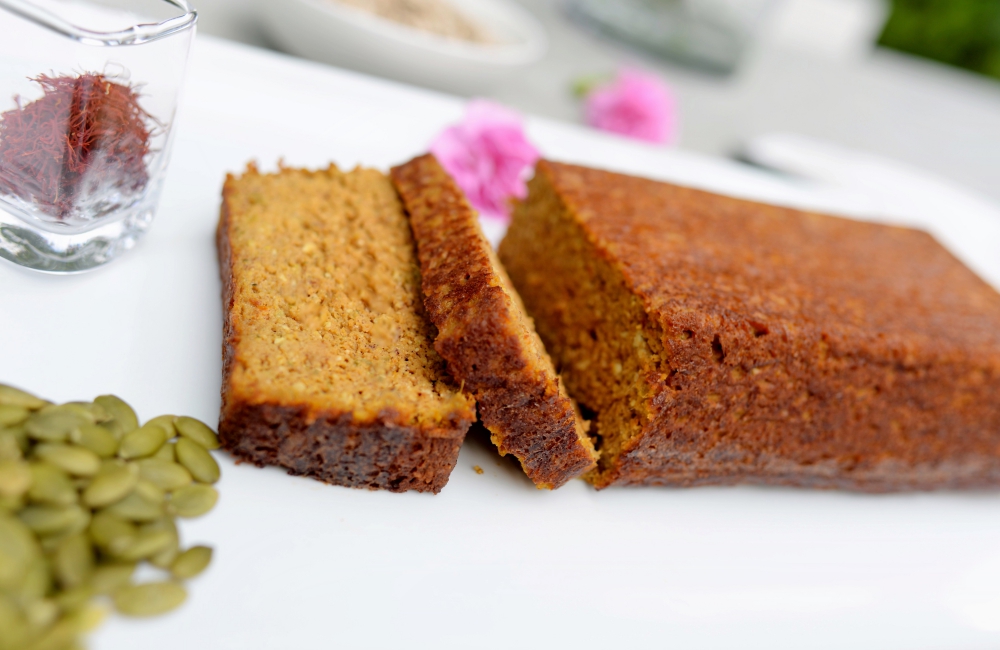 INGREDIENTS:
½ cup raw pumpkin seeds, ground
½ cup raw sunflower seeds, ground
1/3 cup coconut flour
1 tsp. cinnamon
1 tsp. cardamom
½ teaspoon baking soda
1 Tbs. vanilla extract
2 cups carrots
1 banana
1-inch ginger root, peeled and grated
¼ cup melted coconut oil
2 eggs
¼ tsp. ground saffron thread, dissolved in 1 Tbsp. hot water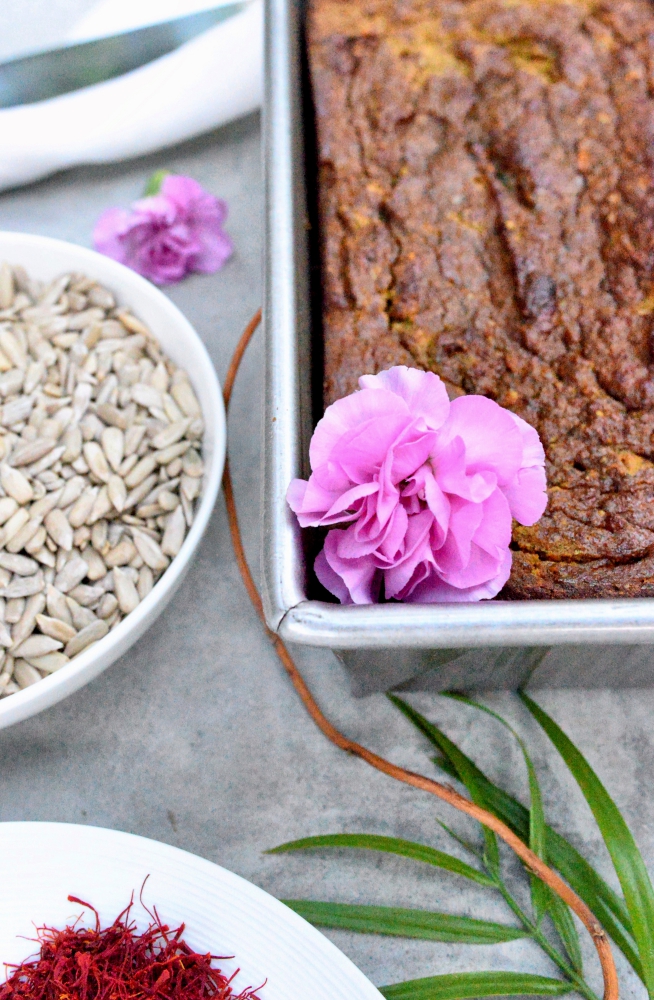 DIRECTIONS:
Preheat oven to 325 F.
Use a food processor, blender or a seed grinder, take sunflower seeds and pumpkin seeds, grind until a fine powder is formed. Pour the ground seeds into a large mixing bowl, add rest of the "dry" ingredients and mix well.  Add carrots, banana and ginger to a food processor and blend until smooth. In a separate mixing bowl, add the blended carrot mixture to the rest of the "wet" ingredients and whisk until well combined.  Mix both bowls together until well incorporated. Pour into greased loaf pan and spread the mixture evenly and bake for 45–60 minutes or until tester stick (toothpick or a fork comes out clean from the center). Remove from the oven and let it cool for about 10 minutes before taking out to rest on a wire rack to cool completely.
TIP: Slice and store in an airtight glass container for a 3-4 days days in the refrigerator or freeze for later use. To thaw, simply put in the fridge or toast them in a toaster oven.