I am just in love with this rose pudding recipe. I first came up with it for those mornings that I was in a rush to run out of the house.  When I make them, I simply top it with my favorite fruit and I have a delicious and satisfying breakfast. They are not only great for those rushed mornings but they are perfect for dessert or snack at any time of the day. This pudding is super easy to make and it is creamy, delicious, loaded with fiber, omega-3 fatty acids without any refined sugars.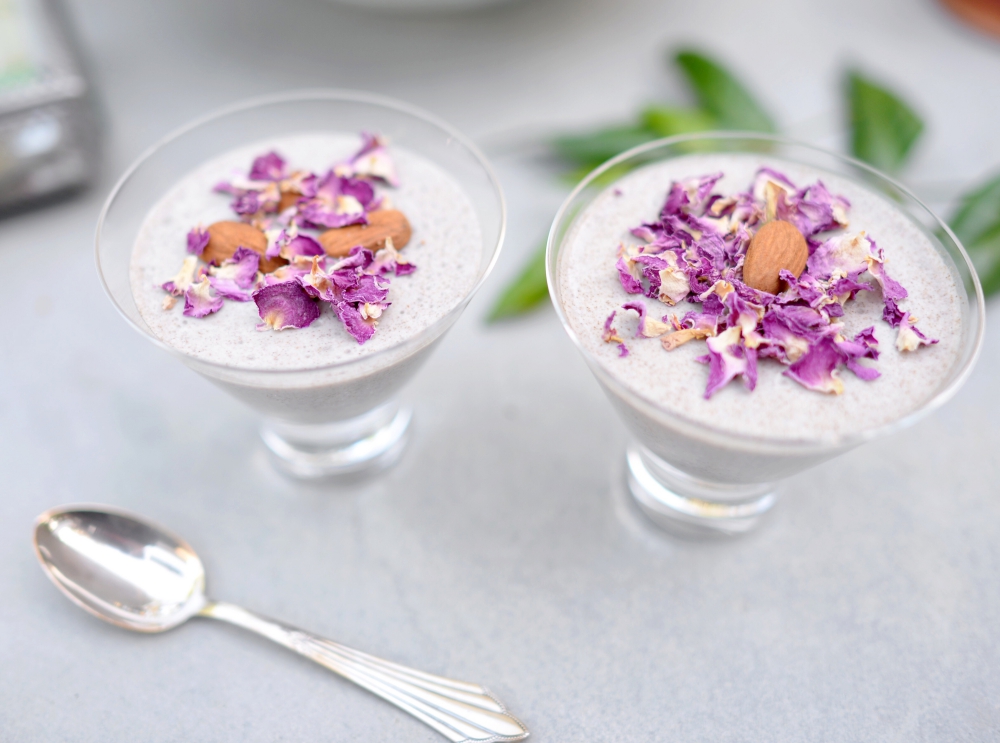 SERVINGS: 4
INGREDIENTS:
1/3 cup chia seeds
1/3 cup flax seeds
1/4 c. raw almonds
3 cups coconut milk or your favorite choice of milk
2 teaspoons vanilla extract
2 tablespoon rose water
1/4 teaspoon ground cardamom
1/4 teaspoon kosher sea salt
a dash stevia powder (optional)
TOPPINGS:
1 Tbsp. raw almonds
Pinch of dry edible roses
INSTRUCTIONS:
Put chia seeds, flax seeds, almonds, coconut milk, vanilla, rose water and cardamom in a blender and blend for a 1-2 minute on high until completely smooth. Pour the mixture into small glasses or jars. Refrigerate for at least 4 hours or overnight, until the puddings become thick.  Remove from the fridge, top with a few almonds and dry roses.  For breakfasts, you can top it with your desired fruits such as fresh strawberries or blueberries.
TIP: You can store them in the fridge for up to 3 days for best flavor and freshness.