This smoothie is nourishing, delicious and satisfying. It's full of antioxidants, healthy fats and vitamins.
The strawberries, turmeric and ginger root along with rose water add a very distinct flavor profile to this smoothie. You can enjoy this at any time of the day and serve it in a glass or a smoothie bowl.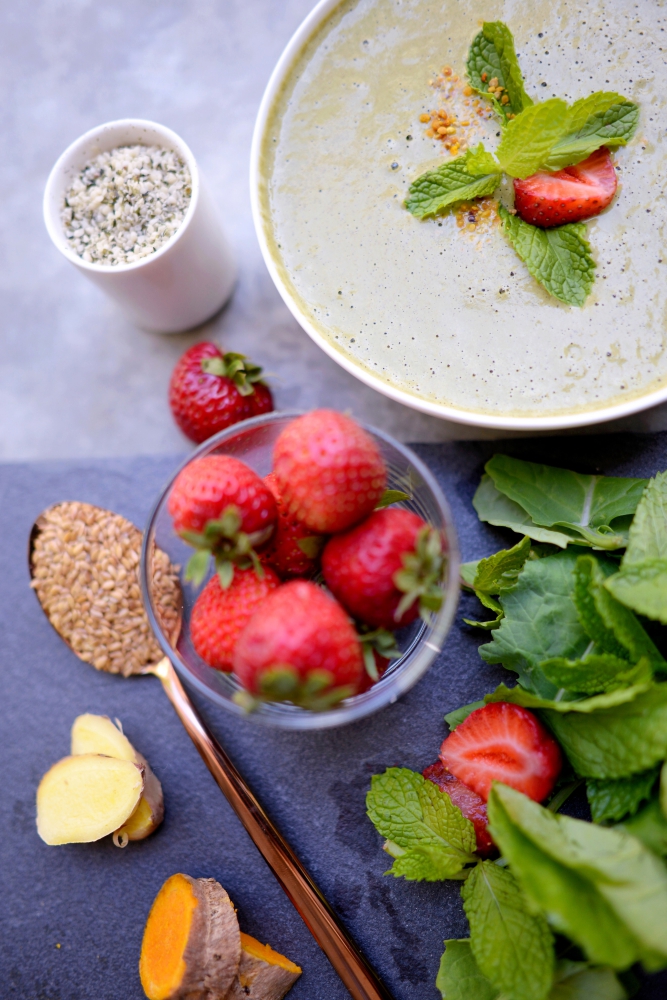 SERVING: 1 
INGREDIENTS: 
1/2 cup fresh strawberries
5-7 fresh mint leaves
A small handfull kale leaves
1 handful watercress
1/2 cup unsweetened coconut milk
1 tablespoon flaxseed
2 tablespoons raw shelled hemp seeds
1 inch fresh ginger root, peeled (adjust to your taste)
1 inch fresh turmeric root, peeled (adjust to your taste)
1 tablespoon lime juice
2 tablespoons rose water
Dash of organic stevia powder (optional)
Pinch of kosher sea salt
1 cup ice cubes (adjust to your taste)
DIRECTION:
Place all the ingredients in a blender and blend until smooth and creamy (Depending on your blender, blend until you obtain the desired consistency.) Transfer to a bowl and top with your favorite toppings.
TIP:  For thicker smoothie add more ice and for a thinner consistency add filtered water or more coconut milk.
NOTE: If you wish to make this in a batch, it's best to store it in airtight containers with minimal space at top. If you are interested to know which blender I use, Vitamix is my ultimate favorite one.